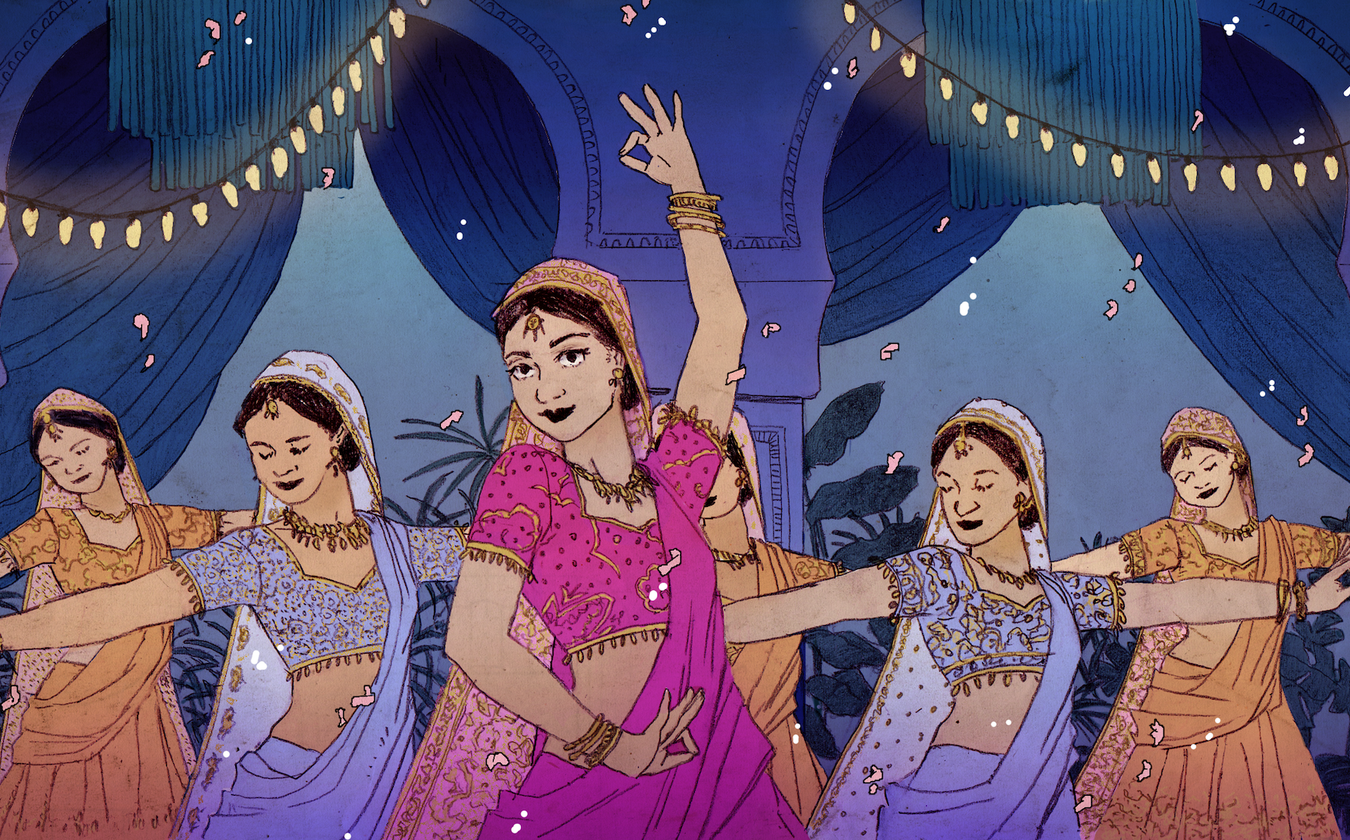 In Bollywood, an item song is a dancing scene featuring a young actress that is irrelevant to the content of the movie. It's doesn't reveal anything about the story of the film. It is a significant source of advertisement and is commonly recognized as a marketing tactic and promotional source. While considered throughout the light of a global pattern in several other domains of Indian state to suppress social representations of sexually suggestive females, the prevalence and prominence of item numbers represents a perplexing social and cultural phenomenon. It involves putting females in suggestive clothes, blaring music, pornographic dance forms, or dances that physically and sexually objectify the women's bodies in trying to respond to male audiences. Some clearer concept of "item number" will fail to consider the multitude of forms in which those activities or presentations have progressed throughout time although, in their heart, remaining consistent to serve up the women's body as an instrument for sexual enjoyment. It collects the focus of lot male audiences for example as Katrina Kaif performs an item number, she is an outstanding demonstration of somebody who draws a vast viewership to a film. About the fact that Kaif's 2010 entertainment Tees Maar Khan did not do well enough at the cinema, her single Sheila Ki Jawani had been a major blockbuster in music stores, on the television, as well as among online users. In reality, the production won further accolades than that of the movie, including a Zee Cine Award for best dance moves. The item number's visual presentation is deliberately designed to limit the item woman to the cumulative effect of her parts of the body instead of portraying herself within the whole entity. The camerawork and choreograph of dance include intentional slashes of the breasts and lower back that are reminiscent of sex encounters. That impact is heightened by camera movements which, rather than showing the female itself, consists of a sequence of quick cuts focused on her face, midsection, thighs, eyes, and lips. Previously, the outfits in early item numbers became close Modern gowns; today, these almost often consisting of sexually suggestive iterations of typical Indian clothes, eroticizing the same apparel that may have been used to signify the actress's 'sanctity.'
Item music in Bollywood movies is well received by viewers, but it only worsens the nation's women population's plight. There seems to be no connection among item numbers and the plot of Hindi cinema, but due to the success, such lewd numbers are now an obligatory phase of the films. There seems to be little study on rap in India, and item numbers are just a few years old. It's indeed necessary to objectively study these music tracks and its lyrics in addition to comprehend how females are demeaned. It could eventually serve to improve the situation of girls throughout the world via other research which assist song writers in understanding the effect which this material will have on the people. Youngsters are highly inspired by films, music, and commercials. Young students or people look up towards celebrities as mentors and blindly imitate such celebrities. Whenever these children view certain mentors or as they consider them as positive example in music and films brutalize, dehumanize and portraying females as sexual objects, they can want to imitate individuals. Female stars with in film industry were sexually harassed by men professional, and several cinema actors have spoken out against the evil side of showbusiness. Actresses that made it to the final will often speak up about some of these circumstances' individuals encountered as outsiders to either the business. The item songs are often meant to relieve some embarrassment that a guy moviegoer might feel when viewing a sexually suggestive show in such a crowded location as a movie theatre. For example, the movie's simulated presentation is usually supported by one's own on-screen crowd. An audience of guys, intoxicated and blatantly scowling only at woman thus trying to contact her, could be seen up on screen. As just a result, the spectator throughout the movie theatre is not guilty of exhibitionism because he is just "seeing the viewer." Sometimes, the movie's character will be shown observing the item number expectantly, as though to show that men of integrity will observe the production without it being fundamentally tainted. When contrasting item songs that have been reimagined 10 – 20 years since the initial, the general tendency against sexual objectification of item songs is more evident. As a result, Cinema has turned to a variety of narrative features that enable this to depict the sexually suggestive girl via the item song while not excusing the ethics of the performed act. This involve making the 'vamp' execute the item song, maintaining a great professional dancer in the movie execute the item number, and having the 'vamp' performing the item number.
Shabana Azmi believes that drastic modifications are necessary, specifically with respect to item songs. According to the activist-actor, "todays modern as such item songs are outright rude." Men desire is piqued by distorted photos of a female's svelte physique, spinning bellybutton, and moving curves. Camera shots that are prurient and offensive lines also diminish her. Whenever women are commercialised in movies and ads, women really aren't encouraged; however, they discredit ourselves or undermine the decades-long progress of the feminism rights. It's past time for our leading ladies to use more flexibility in their decisions." Shabana, on the other hand, is opposed to creating each and every item numbers with much the same hand. "All of the item numbers aren't evil. Commemorating a female's identity in a strong way, like in Omkara's Beedi jalaye le jigar se piya, is freeing and reveals the female in command," she says. Item songs, according to Ila Bedi, daughter of prominent 1970s director Narender Bedi, are a simple aggression. "Chikni chameli, Sheila ki jawani, and Ooh la la have cheap entertainment," says Ila. Why do males value females who refer about themselves as roast chicken, fish fry, as well as other delectable? Item songs certainly monopolise girls with the risqué vaginal thrusts." "Music and its lyrics certainly take their part," agrees Reema Kagti, whom depicted Rani Mukerjee and Kareena Kapoor as powerful confident women in Talaash, "but the general misinterpretation of female in our movies is a greater issue."
Until representing females, authors and supervisors must become more aware and appreciate them stronger." Song writer Prasoon Joshi, on the other hand, claims that Hindi movies and music were not solely responsible. "There are several compositions and scenarios in which caution should have used. However, if the filmmaker/goal directors aren't really exhibitionism, it cannot be deemed immoral" Female's physical beauty, according to Kabir Bedi, always has been a main staple for movies, clothes, media, and advertisement. "Males, too, are commercialised. Good looking boys are constantly removing their jerseys. Cinema does have its own production theme. "Much more criticism is bad," says the actor.
Along with more narrow emphasis on heteroconjugality in Film industry and community interactions, the environment and study of item numbers encourage us to discern and consider a broader domain of sexual orientation and heteroattractiveness. Despite being presented within hierarchical hetero male supremacist and oppressive systems, I claim that item numbers present females with prospects for hetero desirable exposure and benefit by refashioning the sense of item numbers as useful rather than utter representations in concrete situations. Despite efforts at a totalizing masculinist exploitation of a female's skin or sexuality, item numbers conducted for hilarity and/or benefit offer an overt criticism of the scientifically testable definitions of sexual decorum.
As a result, we could no longer recognize to speak item numbers that "she" or "her"" rocks, but rather "we" whom were living to the enjoyment of item numbers and/or obtain a subsistence from all of this who rock in our film industry mediatised, cine sexualised lifestyles. The taught self-narratives of item women and men on film are confined to the background, and their dramatic appearances interact with the existence of common viewers and more as a distinction is introduced among certain dramatic cine sexual representations and our comparatively less dramatic cine sexual representations inside it to round urban, middle-class, and working-class viewers. It's also very worth noting that the 'Hindi cinema item album' reflects just a small amount of the large uncontrolled area of entertainment purposes, a significant portion of which is filled by comparatively discreet enjoyment.
Models from either the performers, whether at a business conference or a post-wedding party in a town, known as 'item ladies,' they often entertain meetings of promiscuous males all across South Asia. The term "item music" was no more restricted to the high packages provided by Hindi cinema, have often outlived its actual intent. Furthermore, 'item girls' outside from Hindi cinema captivate their viewers without any of the support of fast cutting and lighting equipment. Several companies have these 'item girls,' which are in high demand on some days. Cheer squad at Indian Premier League (IPL) matches and other similar spectaculars aren't any special as they all have the same purpose: to attract a crowd. Although the actors' bodies are easily removed, the lasting existence of an 'item song' as a sparkling amalgam of sound slipperiness looms big. Movies can become unable to include 'item songs,' however the concept of filmmaking nevertheless depicts a range of music festivals. For reality, but that is not to say that perhaps the 'item number' actors came from Hindi cinema, but rather that the noisy way in which Cinema marketed the 'item number' as a sponsored content trick has run to add credibility, integrity, and even inanity to its longevity and fornication. The environment has a large influence on the construction of narratives and civilise contexts that mistreat female. The apparent success of these tracks can be used to measure their impact on the public. Users, whether women or men, particularly the young, quickly associate with these press photos, which become patterns. It's really a point of concern as it extends gender stereotypes in culture. A review on the material is necessary, respecting the fundamental force of shaping personality without really understanding it, complying to the structures and processes of identity and sexual appetite at work. In recent years, there has also been a rise in the market for Item number. It is critical to understand that citizens like these types of sexual music. Is it positive that the press is promoting such types of tracks when there is such a strong market for them? Film producers use this music in their films to guarantee their popularity. However, there is some misunderstanding about the press's position as a societal key component. Many people feel that such lyrics should be promoted because they empower female to convey themselves openly. Some have asked whether these lyrics are supposed to become a forum for free speech or a way to attract the men audience. As a result, I think it is important to explore these in my study as an entire subject of representation of women. Also, there is a void in the discourse regarding female's inclusion and element items in Hindi cinema that needs to be filled.
The moralising connotations of Mumbai's prohibition on party bar often state clearly that perhaps the freedom to earn a decent living by sexualizing one's personal body is reserved for Hindi cinema stars and performers at prestigious locations. Eventually, the movement towards film certification highlights the stark difference. On one hand, considering the explicit misogyny and sexual objectification of females, the overwhelming majority of media Film industry quickly programmes suitable certifications. Movies which depict girls as erotic "courses" with wishes, dreams, and the ability to fulfil those, but at the other hand, incite the anger of correct Hindu extremists as well as the Censor Board.
In accordance with that kind of ethics, Cinema has used a range of plot devices that maintain and display item songs for the shock value of moviegoers thus maintaining that its item girl rarely holds a role in the storey which would normalise or legitimise her blatantly erotic output. As a result, the state of India and movie business have joined forces to guarantee the only mainstream portrayal of women's bodies that is acceptable is one where she is deprived of her identity and relegated to a demeaned, objectification type which is geared solely for man patriarchal viewing. Item songs, and by their own definition, will often be fanciful glasses of females 'to have been stared at' instead of substantive, inspiring, or likeable representations of women's bodies, as demonstrated by their words, songs, cinematography, wardrobe, camera angles, and location in the overall narrative.
Aishwarya Says:
I have always been against Glorifying Over Work and therefore, in the year 2021, I have decided to launch this campaign "Balancing Life"and talk about this wrong practice, that we have been following since last few years. I will be talking to and interviewing around 1 lakh people in the coming 2021 and publish their interview regarding their opinion on glamourising Over Work.
If you are interested in participating in the same, do let me know.
Do follow me on Facebook, Twitter Youtube and Instagram.
The copyright of this Article belongs exclusively to Ms. Aishwarya Sandeep. Reproduction of the same, without permission will amount to Copyright Infringement. Appropriate Legal Action under the Indian Laws will be taken.
If you would also like to contribute to my website, then do share your articles or poems at adv.aishwaryasandeep@gmail.com
We also have a Facebook Group Restarter Moms for Mothers or Women who would like to rejoin their careers post a career break or women who are enterpreneurs.
We are also running a series Inspirational Women from January 2021 to March 31,2021, featuring around 1000 stories about Indian Women, who changed the world. #choosetochallenge