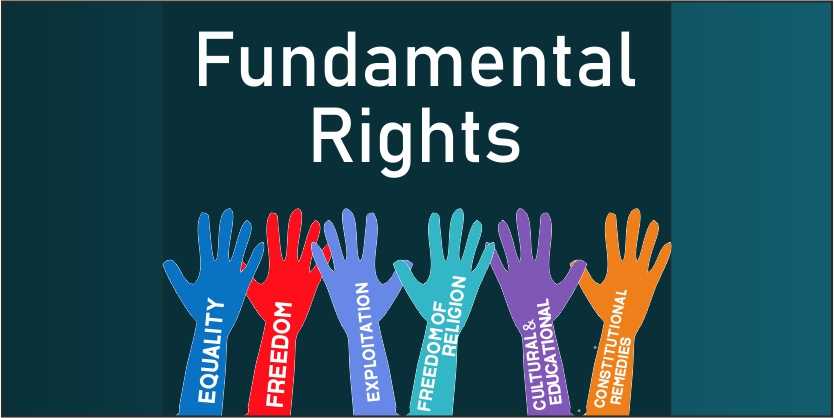 Fundamental rights are guaranteed by the Constitution of India under Part III. They are so-called because these rights are provided by the fundamental law of the land and no authority can make any action which is in contravention of these rights.
In M. Nagraj v. Union of India (2006) 8 SCC 212, it was observed by the Apex Court that fundamental rights have a deep-seated elemental value. These innate rights are possessed by individuals in a society since they are members of it. The principal purpose of the incorporation of the Fundamental Rights in the Indian Constitution was the establishment of a government system where there is no tyranny or arbitrariness.
In A.K Gopalan v. State of Madras AIR 1950 SC 27, it was observed that the primary objective behind the inclusion of fundamental rights into the Constitution is to stop the State from encroaching on individuals' liberty. There is an express constraint in the Constitution against any sort of interference with these rights. The provision of judicial review is one means to prevent it.
Being universal in nature, these rights are applicable to each and every citizen of India regardless of any ground. For instance, Fundamental rights falling under Articles 15, 16, 19, 29 and 30 are applicable only to the citizens of India whereas those falling under Articles 14, 20, 21, 21A, 23, 24 and 25-28 are applicable to the individuals residing in India barring enemy aliens.
Fundamental rights have both white and black facets to them. They are positive in the sense that they bestow rights directly upon the citizens of India with the exclusion and no mention of any provision relating to the actions of the State. Examples of this would be Articles 19(1), 21A, 25(1), 29(1) and 30(1). The negative aspect of fundamental rights stems from the fact that they enforce restrictions on the State to not indulge in certain types of acts. Examples of this are Articles 14, 15(1), 16(2), 18(1), 20, 21 and 22(1).
It would not be wrong to say that the Fundamental Rights provided by the Constitution are not absolute. There are Constitutional provisions which impose restrictions on the exercising of these rights. For instance, even though the freedom of speech and expression has been guaranteed by Article 19, the citizens have to refrain from acts and statements that could endanger foreign relations. There are also Fundamental Rights which are absolute like Article 17, Article 24 and Article 25(1).
Even though certain Fundamental Rights need legislations to make them enforceable, there are other Fundamental Rights which are self-executory in nature and do not require any further legislations. An example of the former would be Article 21A, Right to Education, where the Right of Children to Free and Compulsory Eviction Act was enacted for the enforcement of Article 21A or Article 17, Abolition of Untouchability, where Protection of Civil Rights Act and Scheduled Castes and Scheduled Tribes Act was enacted for enforcing Article 17.
It is also necessary to mention that Fundamental Rights are enforceable against the State and not against individuals. Exceptions to this are Articles 17 (right against untouchability), 23 and 24 (right against exploitation) and 21 (right to personal liberty).
There are certain restrictions placed on the Fundamental Rights. Articles 31A, 31-B, 31-C, 33, 34 and 35 are the ones which talk about the limitations.
The Indian Constitution has guaranteed six types of fundamental rights:
Articles 14-18: Right to Equality
Articles 19-22: Right to Freedom
Articles 23-24: Right Against Exploitation
Articles 25-28: Right to Freedom of Religion
Articles 29-30: Cultural and Educational Rights
Article 32: Right to Constitutional Remedies
Aishwarya Says:
I have always been against Glorifying Over Work and therefore, in the year 2021, I have decided to launch this campaign "Balancing Life"and talk about this wrong practice, that we have been following since last few years. I will be talking to and interviewing around 1 lakh people in the coming 2021 and publish their interview regarding their opinion on glamourising Over Work.
If you are interested in participating in the same, do let me know.
Do follow me on Facebook, Twitter Youtube and Instagram.
The copyright of this Article belongs exclusively to Ms. Aishwarya Sandeep. Reproduction of the same, without permission will amount to Copyright Infringement. Appropriate Legal Action under the Indian Laws will be taken.
If you would also like to contribute to my website, then do share your articles or poems at adv.aishwaryasandeep@gmail.com
We also have a Facebook Group Restarter Moms for Mothers or Women who would like to rejoin their careers post a career break or women who are enterpreneurs.
We are also running a series Inspirational Women from January 2021 to March 31,2021, featuring around 1000 stories about Indian Women, who changed the world. #choosetochallenge