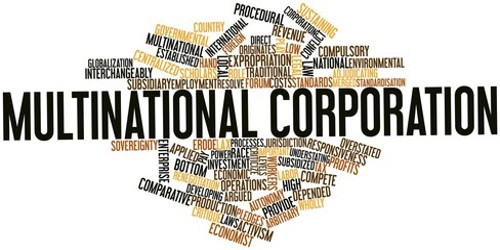 In today world, the third form of economy that is now at an accelerated pace is a "multinational corporation." It is a multinational entity in at least one country other than its home country that owns or regulates the production of products or services. Potentially, they are the most important and perhaps the most divisive economic units in the world today. A multinational corporation is essentially one that owns or operates companies in two or more nations. It is typically a large organization that manufactures or provides products or services in many countries, organized in one country. Their huge scale and the fact that their worldwide operations are directly managed by the parent corporations are two similar features shared by MNCs
Importing and exporting goods and services
Making significant investments in a foreign country
Buying and selling licenses in foreign markets are some of its characteristics.
The East India Company, was one of the first international business organisations, that was set up in 1601. The Dutch East India Company, established on March 20, 1603, came after the East India Company, being the largest company in the world for almost 200 years. Multinationals produce numerous products in several countries in their pure varieties, export to global customers, attract leadership from many nations, and are owned by shareholders across the globe. Several examples are, PepsiCo, Sony corporation, Nestle, Coco Cola etc. Multinational companies have emerged as very large economic powers. These multinational companies achieve independence by breaching national borders.
Characteristics in more detail.
In general, in the context of foreign direct investment or the purchase of local businesses, formed subsidiaries or branches in several countries, there is a national power of large corporations as the main agency.
Usually, it has a full decision-making structure and the highest decision-making centre; each subsidiary or branch has its own decision-making entity, based on the particular decision-making roles and activities, but its decision-making must be subordinated to the highest decision-making centre;
MNCs seek markets in worldwide and rational production layout, professional fixed-point production, fixed-point sales products, in order to achieve maximum profit;
Due to strong economic and technical strength, with fast information transmission, as well as funding for rapid cross-border transfers, the multinational has stronger competitiveness in the world;
Many large multinational companies have varying degrees of monopoly in some area, due to economic and technical strength or production advantages.
Benefits for MNCs
Create prosperity and employment across the globe. For emerging countries, multinationals' inward investment produces much needed foreign currency. They also generate jobs and contribute to raising standards of what is possible.
For science & growth, significant revenues may be used. Oil discovery, for instance, is expensive and risky; this should only be done by a multinational corporation with considerable benefit and capital. For drug makers who need to take chances in designing new medicines, it is similar.
There is a common appeal for goods that gain world domination. Because of satisfying customer expectations, McDonald's, Coca-Cola, Apple all attained their market share.
Multinational outsourcing of output creates cheaper prices; this raises household disposable incomes in the developing world and allows them to consume more products and services, providing fresh sources of employment to offset the jobs lost through outsourcing industrial jobs.
Multinational businesses' popularity is also because buyers like to shop products and services where they can rely on minimal requirements.
Investments from overseas. Multinational companies indulge in direct foreign investment. This helps generate capital transfers to countries that are poorer/developing. It also provides jobs.
These are the criticisms faced by MNCs.
In recent years, multinational companies have been criticized. Over Years They have begun to participate with the internal political relations of the countries in which they work in order to protect their rights.
Multinational businesses are willing to invest every amount. And pay for the bribe to preserve their rights.
Avoidance of taxation. In countries with the lowest tax rate, several multinationals set up businesses. They funnel benefit into the countries with the lowest tax rates for companies
Multinational businesses also lead to deforestation and the use of non-renewable energy in the pursuit of profit, which puts the ecosystem at risk. Some MNCs have, for example, been blamed for outsourcing waste and environmental destruction to emerging countries where the requirements for emissions are lower.
Aishwarya Says:
I have always been against Glorifying Over Work and therefore, in the year 2021, I have decided to launch this campaign "Balancing Life"and talk about this wrong practice, that we have been following since last few years. I will be talking to and interviewing around 1 lakh people in the coming 2021 and publish their interview regarding their opinion on glamourising Over Work.
If you are interested in participating in the same, do let me know.
Do follow me on Facebook, Twitter Youtube and Instagram.
The copyright of this Article belongs exclusively to Ms. Aishwarya Sandeep. Reproduction of the same, without permission will amount to Copyright Infringement. Appropriate Legal Action under the Indian Laws will be taken.
If you would also like to contribute to my website, then do share your articles or poems at adv.aishwaryasandeep@gmail.com
We also have a Facebook Group Restarter Moms for Mothers or Women who would like to rejoin their careers post a career break or women who are enterpreneurs.
We are also running a series Inspirational Women from January 2021 to March 31,2021, featuring around 1000 stories about Indian Women, who changed the world. #choosetochallenge