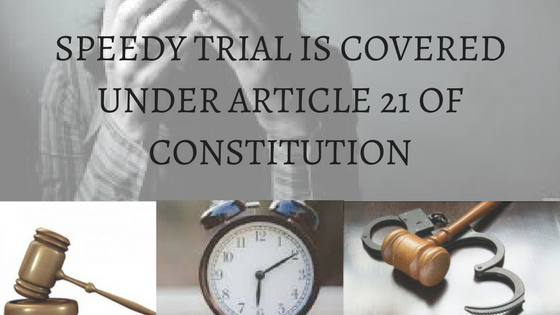 Speedy trial is a basic fundamental right, which is implicit in the safeguarding of life and personal liberty, contained in Article 21 of the Constitution, and any prisoner who is deprived of this right may petition the Supreme Court under Article 32 to have it enforced. In the event of a violation of Fundamental Rights, Article 32 of Part III of the Indian Constitution empowers all Indian residents to file a petition with the Supreme Court. Court in carrying out its constitutional duty, has the authority to issue appropriate orders to state and local governments and other suitable agencies in order to ensure that the accused possesses this right.
Sheela Barse v/s Union of India held that the right to a speedy trial is enshrined in Article 21 of the Indian Constitution. If a defendant is not investigated quickly and his case is waiting before the Magistrate or the Sessions Court for an excessive amount of time, it is apparent that his fundamental right to a timely trial has been infringed, unless such trial is stalled due to an interim order issued by a superior court or the accused is to blame for the case's delayed in being tried. As a result of an infringement of the fundamental right to a fair hearing and speedy trials, the prosecution's case might be dismissed on the grounds that it is in breach of the fundamental right. The Court made multiple orders on July 12, 1986, regarding emotionally and intellectually impaired kids, as well as discarded or poor youngsters, who are being incarcerated in various prisons around the country for "safe custody." Misra Ranganatha gave the Court's decision. The court has ordered the Director Generals of Doordarshan and All India Radio to issue public notices requesting non-governmental social welfare groups' assistance in the restoration of these youngsters. Previously, youngsters had to be imprisoned rather than being adequately cared for, receiving necessary medical treatment, and receiving instruction in different skills that would enable them to become independent and self-directed. A few years ago, the National Policy for the Welfare of Children was released, which included the pronouncements that the children of the country are a priceless resource. Children's initiatives should play a key role in the national goals for human resource development. The larger goal of eliminating disparity and achieving social equality should be to provide equitable possibilities for growth to all children through their growth phase and it's the responsibility of the state to care for and ensure the full development of its citizens' personalities. It is the reason why child-related legislation states that a kid shall not be imprisoned and it is self-evident that a prison is not the best location for a youngster to be confined. There is no question that prison would stunt a child's growth, expose him to harmful influences, soften his morality, and alienate him from community.
The environment of the jail has a severely detrimental influence on the child's mentality, isolating him from society and instilling in him dislike verging on hatred for the institution that keeps him locked up. Hence, even when youngsters are convicted of misconduct, they should not be imprisoned. State cannot claim that it lacks sufficient remand homes, surveillance residences, or other facilities in which to house children, and that this is why they are detained in jails. There are specific conditions implemented in different laws with regards to children offering for trial by Juvenile Courts in conformity with a specific provision designed to protect the interests and protection of children, but we find in many States, Juvenile Courts do not work properly at all, and even where they do, they are nothing more than a duplicate of the normal criminal court system, only one thing that has substituted is the label. So same Magistrate who sits in the regular criminal court also sits in the Juvenile Court, where he or she often hears matters involving children. They must establish Juvenile Courts for each district area, as well as a particular cadre of Magistrates who are properly prepared to deal with issues involving children. They may indeed engage in many other illegal activities if the Juvenile Court's work is insufficient to keep them completely engaged; nevertheless, they must have suitable and suitable experience for dealing with matters involving juveniles, since these matters demand a distinct sort of process and fundamentally new approach.
Court held the followings:
A period of 3 months from the date of making the lawsuit or lodging the First Information Report is the maximum time allowed for enquiry, and a duration of 6 months from the submission of the charge sheet is a reasonable time period within which the trial of the child has to be finished in the case of a child charged with a crime that is penalised by prison a within a period of not more than 7 years. If this is not performed, the child's case will most likely be dismissed. In future circumstances, each state government must comply to this concept or standard.
In the case of outstanding cases involving crimes punished by not more than seven years in prison, it is instructed that each State Government finish the inquiry within three months of today if the inquiry has not yet concluded in the submission of a charge sheet. If a charge sheet has been filed, the trial must be finished within 6 months of today, otherwise the prosecution will be dismissed.
State governments must establish the requisite detention and observation homes for minors suspected of crimes waiting trial process. Children should never be detained in prison, but if state government doesn't have enough space in the residences for observation, the youngsters should be rescued on bail rather than being imprisoned.
The Central Government should introduce Parliamentary Legislation on the issue, ensuring perfect uniformity across the country's many legislations dealing to children Instead of each state having its own Children's Act that differs in process and substance from other states' Children's Acts. The Children's Act, which will be approved by Parliament, should include unavoidable measures for the social, economic, and mental children's rehabilitation who are either convicted of wrongdoing or neglected, destitute, or lost.
Aishwarya Says:
I have always been against Glorifying Over Work and therefore, in the year 2021, I have decided to launch this campaign "Balancing Life"and talk about this wrong practice, that we have been following since last few years. I will be talking to and interviewing around 1 lakh people in the coming 2021 and publish their interview regarding their opinion on glamourising Over Work.
If you are interested in participating in the same, do let me know.
Do follow me on Facebook, Twitter Youtube and Instagram.
The copyright of this Article belongs exclusively to Ms. Aishwarya Sandeep. Reproduction of the same, without permission will amount to Copyright Infringement. Appropriate Legal Action under the Indian Laws will be taken.
If you would also like to contribute to my website, then do share your articles or poems at adv.aishwaryasandeep@gmail.com
We also have a Facebook Group Restarter Moms for Mothers or Women who would like to rejoin their careers post a career break or women who are enterpreneurs.
We are also running a series Inspirational Women from January 2021 to March 31,2021, featuring around 1000 stories about Indian Women, who changed the world. #choosetochallenge