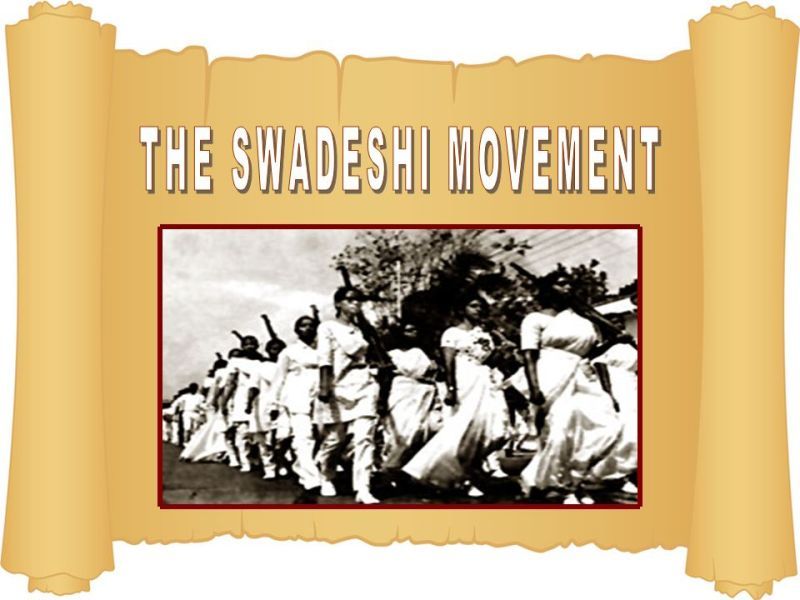 INTRODUCTION
The Swadeshi movement was a pivotal milestone in India's freedom struggle. It began as a protest opposing Bengal's division in 1905. Bengal was Colonial India's largest populated region at the time. It encompassed not just the west and east sections of the state, and also Bihar, Assam, and the majority of Orissa. In terms of population distribution within this massive regulatory entity, the east section of Bengal was dominated by Muslims, while the western region was dominated by Hindus. The two cultures adapted to one else in the central region of Bengal. Although the Bengal government as an authoritative body was growing in size as a consequence of success and accession, it was thought troublesome to manage. As a result, the idea of rebuilding the Bengal administration came up for wrangle about between British specialists. Discussions of dividing Bengal have been going on ever since Orissa starvation of 1866. Assam was part from Bengal in this respect in 1874. The proposition to convert the Chittagong divisions to Assam was made in 1892, and the proposal to move the locales of Dacca and Mymensingh to Assam was made once more in 1896, such that Assam appears to have been a Lieutenant Governor's domain. However, nothing of these proposals came to fruition. Until this moment, the executive's concerns over the division of Bengal were purely procedural.
However, through the reign of Lord Curzon, circumstances had begun to alter. In 1903, he suggested transferring the Chittagong divisions, Dacca, and Mymensingh regions to Assam and Chota Nagpur to the Central territory; in exchange, Bengal will get Sambalpur and the feudatory kingdoms from the Central Territory, among other things. However, the ultimate division proposal for Bengal was released on July 19, 1905, with minor changes from the earlier idea. In accordance with that kind of idea, a distinct region of Eastern Bengal and Assam was established, comprising all provinces of the Chittagong, Dacca, and Rajshahi sectors, and also Tippera, Malda, and Assam. The motivation for this division design went below procedural considerations. Curzon would have supported numerous additional logical methods of partitioning, such as linguistic division, if it had been on administration reasons. However, he was meant to further undermine the Congress, that had nothing to display for its tenure in 1903 (John R. McLane, 1977), and also to divide highly unified Bengali population, that have dominated the Congress, in order to diminish rising patriotism.
NATURE OF SWADESHI MOVEMENT
After exhausting all other avenues of legal activism, such as loud demonstrations, pleas, appeals, and meetings, the Bengalis turned to the boycotting campaign as a final alternative to force the British to grant the overwhelming national demand.
The initial notion of Boycott was primarily economic. It has two separate but related goals in mind. The major goal was to put pressure on the British open by threatening them with financial ruin if they boycotted British products, particularly Manchester cotton products, in which Bengal was the wealthiest advertiser in India. Besides, it was regarded as critical for the restoration of native industry, that, to be in its infantile stage, could never develop in the face of open competition with many other nations that had profoundly established industrial sector.
The Swadeshi as a entirely financial technique for the advancement of Industry in India, such as the Boycott, was not truly a new concept in India. It was instructed by various outstanding people within the nineteenth century, counting Bombay's Gopal Hari Deshmukh, commonly known as Lokahitawadi, Arya Samaj author Dayanand Saraswati, and Calcutta's Bholanath Chandra. The seeds they sowed, in any case, did not colonies until the soil was made beneficial by the stern determination of the individuals united, baffled advance than measures, to set up a double weapon framework of Boycott and Swadeshi in arrangement to upset the seen bad form forced onto them by the self-important Government, resentful to the agents of the larger part individuals.
With the passing a long time, the money related boycott blurred into the foundation, and it advanced through a concept of non-cooperation with the British in all areas, with objective of equitable rebuilding of the nation and the withdrawn reason of add up to flexibility extra term within the eyes of more progressed area. Moreover, Swadeshi has outgrown its fundamental objective of supporting Indian manufacturing. It took on an unused shape formed on the genuine utilization of the term Swadeshi, basically dedication to all things Indian.
In terms of financial matters, Swadeshi was both a great and a awful figure. These were considered as follows:
The restoration of local commodities had been a useful angle of financial Swadeshi. The boycott of imported things expanded request for nearby merchandise, especially clothing, which was in low supply. Bombay and Ahmadabad process business visionaries stepped forward to assist. The Boycott activity in Bengal given a persuading factor and impulse to Indian cotton plants, and process proprietors took advantage of the chance. It was charged at the period in which the Bombay mill-owners earned a awesome benefit at the cost of what they saw as 'Bengali Sentimentalism,' for acquiring local texture at anything taken a toll, and there may have been small reality to this, be that as it may it isn't certain.
Bengal had to expand the supplies from Bombay plants with coarse handloom yield. The material segment in Bengal was flourishing until the British destroyed it after building up their specialist over the territory within the 18th century. The financial boycott campaign showed up to be an incredible chance to renew that division. The articles of clothing created were rough, but the Bengalis invited them within the honest to goodness state of mind of the Swadeshi Development. A tune that got to be very celebrated all through the nation called on individuals to regard the harsh texture that's the show of the mother, who is as well impoverished to display a more pleasant one.
The boycott and devastation of imported items was an inconvenient perspective of the financial Swadeshi considered with respect to Britishers. In spite of the fact that Manchester texture was the essential target, the campaign extended to incorporate other British businesses like salt and sugar, additionally extravagant items in common. Compositions in magazines, get-togethers, well known tunes, the enlistment of volunteer bunches to preserve an attentive eye, and blazes of outside materials, salt, and sugar protected the concepts of Swadeshi and financial boycott remained alive and brought domestic to each entryway. The obsolete foreign-made clothing having a place to different people was heaped in a load and set on fire. The burning fire were seen as a one-of-a-kind way of respecting noticeable open figures, and the blazes that welcomed them were considered as greatly profitable in terms of ingrains energy for Swadeshi. Anyone caught utilizing imported sugar was subjected to punishments. Remote cigarettes were acquired and burned within the road, Brahmins declined to connect in devout ceremonies in homes where European salt and sugar were being utilized, and Marwaris were exhorted against bringing in outside items. Each of these campfires, in spite of the fact that, had an effect on the person's economy. Burning 'Manchester-made products' obtained at a premium cost really impacts the individuals, but individuals, carried up in energetic energy, continued to disregard and crush remote products.
SWADESHI AND SOCIAL BOYCOTT
The prudent Swadeshi Development brought about within the societal boycott. It was supported to contradict the government's harsh activities. The social boycott was an amazingly compelling tool. A fellow offering or acquiring remote items, or in any way undermining the Swadeshi Development and helping the government in taking it down, would confront diverse levels of disfavor. This social prohibition would make a man obnoxious, in case not wretched, and the government seem to do small to ease his enduring. Peaceful ostracization, in any case, was not the sole strategy of torment. The 'renegade' might once in a while encounter financial misfortune as well as physiological or enthusiastic enduring.
SWADESHI AND NATIONAL EDUCATION
Students who advanced the boycott and Swadeshi development earned the British Raj's hate and aggression. Directions were distributed with fear of cruel discipline prohibiting pupils from partner oneself in any way with Boycott campaign; in fact, the shout of Bande Mataram in streets as well as other swarmed areas was considered a criminal infringement. Professors or institutions whose pupils opposed the instruction was stood up to not as it were with the expulsion of Government financing and conceivably disaffiliation, but their understudies were to be regarded unfit for Government Benefit. The administrators of academic system were encouraged to keep a near eye on their understudies and, in case they were incapable to supervise students, to reveal their personalities to the Department Of education for disciplinary measures. The Judges were asked to inform educates and anybody included in academic institution organization that on the off chance that required, they may be enlisted as Special Deputies. The Director of Public Instruction encouraged university presidents to supply reasons why their pupils who taken part in the revolting and plundering truly shouldn't be dismissed.
All this started shock within the country, and the Indian-owned media hammered the takes note in heartfelt terms. The people of Bengal acknowledged the offer. Pupils at a few institutions in Rangpur abused legislative enlightening, and as they were rebuffed, their guardians declined to give the charge and set up a national school for the dismissed fellows. Teachers were moreover compelled to stop since they did not beat the boys. The energy whereby the two Bengals grasped the concept of national tutoring represents how the Swadeshi Development, like such a seething stream, was bursting its banks and flooding wide areas of the nation. Its crucial objective of financial recharging and boycotting British items was now not constrained. More vitally, the insurgency, from its wide meaning, had extended past Bengal to the rest of India.
THE GOVERNMENT'S OPPRESSIVE METHODS
Separated from boycotting and destroying outside products, individuals turn to 'peaceful picketing,' which is set to be a standard include in for all intents and purposes each kind of political challenge ahead. All of this is given a prospect for the cops to intercede. The members were roughed up, and on the off chance that they were challenged, the cops utilized sticks to strike them. These 'Regulation Lathis,' as they were known, were generously utilized by policemen amid the primary illustration to chase absent protestors and disturb bunches, either crazy or calm, on the off chance that they were seen to be steady to the challenging volunteer bunches. The articulation of 'Bande Mataram' was unmistakable verification of such back, and it was inevitably announced unlawful to pronounce 'Bande Mataram' in a public place.
The official term for the police assault, "light lathi assault," was a mistake. As the tremendous wounds on the casualties verified, it was distant from direct. The government moreover directed educational institutions to keep their boys beneath control and anticipate them from engaging within the Swadeshi Development. Rural markets were regulated, gatherings and rallies were banned, activists were detained without trial, and loyal Muslims were constrained to go against the tenacious Hindus.
SWADESHI IMPACTS AND ESTIMATES
Since no particular figures are known, it is impossible to create a correct evaluation of the impact of the Boycott campaign on the importation of foreign products in Bengal. Concurring to authorized and secret Police records, there had been a significant drop in the importation of British items, eminently materials, over the primary 2 – 3 a long time.
Peaceful resistance may not final much, and the conclusion has never been in debate. It was the start that lighted the startling creation of a arrangement of incognito communist bunches aiming to confront the government on reasonable grounds, by equipping together and combating fear-based oppression with psychological warfare.
In 1906, the Swadeshi division and government arrangements viably part Hindus and Muslims, coming about within the creation of the Muslim Alliance.
In spite of the fact that Swadeshi was at first outlined as a handcrafted boycott of foreign items and expecting exclusively to be a drive of utilizing local things over worldwide merchandise, it rapidly took on a distant broader nature and got to be a physical symbol of patriotism. Not less exceptional was the truth that Swadeshi in Bengal drew into the political frenzy a bunch of people landed aristocracy—who have continuously dodged the Congress or any other political association. The exterior of Bengal, was a sharp shock of disillusionment to the whole nation, invigorating people's political sees. Swadeshi focused on the concept of "Atma Sakti," or spiritual vitality. One component of the Swadeshi Development that M.K. Gandhi esteemed over others must be highlighted in particular. It told the individuals to freely restrict and stand up to the control of the government, and it evacuated from the considerations of indeed common individuals the fear of constable assault and imprison, and the feeling of mortification that had already been associated with them. Planning to prison or getting an identification of pride is not a stamp of childhood, because it was some time recently. The post-independence "Swadeshi Development" has taken a diverse way than its pre-independence forerunner. Whereas the pre-independence Swadeshi Development was fundamentally a response to colonialism, the post-independence Swadeshi Development developed as a response to more oppressive expansionist hones within the post-Second World War environment. India, recuperating from two centuries of imperial tyranny, was constrained to compete with the mechanical economies of the West. Whereas expanding industrialization beneath the sponsorship of "Five Year Plans" pointed at permitting self-sufficiency in India, a got to stable it with a primarily agrarian structure was basic. The need to moderate an agrarian nation's old texture whereas moreover updating incited the restoration of differently reconfigured "Swadeshi Development."
S. R. Ramaswamy, a popular writer, essayist, and faultfinder, was a harbinger of this rising development. Numerous who have as of late joined the development are Rajiv Dixit, Swami Ramdev, and Pawan Pandit.
SWADESHI MOVEMENT IN MAHARASHTRA
The Swadeshi development wasn't exclusive to Bengal. It extended to certain other regions of the nation, and a few national pioneers got to be dynamic members within the campaign. In this way, the waves of activity that started in Bengal spread over India, and authorities from all over the nation were locked in within the development; Tilak was a coordinate member in Maharashtra, Lala Lajpat Rai was a member in Punjab, and Subramaniam Bharati was a member in South India. The current segment of the exposition concentrates on the Maharashtra Swadeshi development.
The boycott wasn't anymore as it were a Bengali issue; it had gotten to be an issue of national importance, and the Mottos of Swaraj, the thoughts of Swadeshi, Boycott, and National Instruction that arose amid the anti-partition development, and inevitably, the thought of Swadeshi had amplified from Bengal to Maharashtra, and numerous other ranges of the country such as Madras and other territories. The Maharashtra Swadeshi Development ought to be seen as an advancement over Swadeshi that was previously displayed in Maharashtra. As a result, whereas analyzing the Swadeshi development in Maharashtra, it is valuable to audit the foundation of Swadeshi within the zone.
However, the Maharashtra Direct republicans backed the Swadeshi Development, numerous were contradicted to a boycott of items. Gokhale, for case, commented that the Swadeshi Development was a nationalistic and economical action, which boycott was a political instrument to be utilized as it were on specific events.
Tilak established the Ganapati Utsav on August 11, 1893, with the objective of ingrains sentiments of control, cohesion, and solidarity among Hindus. He'd turned it into a public occasion where patriotic convictions may be shared. Tilak propelled the Shivaji celebration in Raigad many a long time afterward, in 1895. It started as a Maratha celebration and advanced into a national occasion. The Ganapati celebration was fundamentally social, but the Shivaji devour had political suggestions. The festivals' genuine objective was to lift person's feelings by changing over them into open exhibitions, and to help advance the Indian National Congress. The Swadeshi movement endeavored to lock in the center and lower classes in the financial and political movement. The Swadeshi boycott campaign was a brave try to vindicate the person's right to self-government, utilizing distinctive political unsettling strategies like mass social occasions, general gatherings, dissents, protesting, and so on. As workers were motivated to engage within the Swadeshi Development, it picked up ubiquity in society. Tilak increased issues of the Swadeshi Development among manufacturing workers. Swadeshi's major objective was to make employments for individuals, back existing innate businesses to flourish and act for the individual's welfare all at the same time.
National Instruction has gotten to be a fundamental component of the Swadeshi Development. Its fundamental goal was to construct a three-dimensional structure of education-literary, intellectual, and technical on national lines or beneath national supervision to figure out national fate. The Swadeshi Campaign supported an insurgency for India's social independence, that risen within the National Council of Education, or which was something comparative to a National College made on March 11, 1906, by our nation's best thinkers. The National Council's control outperformed Bengal's borders and spread to the Bombay and Madras Administration, as well as the region of Berar. Distant exterior Bengal, the foremost eminent supporters of National Instruction were B.G. Tilak and Lajpat Rai. From the least to most elevated levels of education, vernacular was utilized as the essential frame of learning, but English was kept like a required second language as a implies of worldwide society. Offices were set up for the learning of Hindi and Marathi languages, as well as Sanskrit, Pali, and Persian as materials for individual historical research.
LITERATURE REVIEW
KESARI – Lokmanya Bal Gangadhar Tilak, a major figure of the Indian Independence movement, launched the kesari daily on January 4, 1881. The Kesari Maratha Trust and Tilak's heirs continue to print the journal, which was used as a spokeswoman for the Indian national liberation struggle.
THE SWADESHI MOVEMENT IN BENGAL – The Swadeshi Movement in Bengal has often maintained a particular position in the history of modern India, dating back to a first publishing some 35 years ago. Little dissertations, if any, have ever matched the painstaking study and dense detail that distinguished this work, as well as the clarity of its presentation and general discussion's compelling strength. Sumit Sarkar's study significantly enhanced current history by illustrating several heretofore unrecognized or overlooked facets of the Swadeshi movement's history.
CONCLUSION
The British used oppressive strategies against the Swadeshi development, counting detaining and ousting various Swadeshi activists. Amid the battle in Maharashtra, activists like Tilak and Shivaram Mahadev Paranjape were detained. To outline, Maharashtra was pivotal within the Swadeshi development. It moreover is worth noticing that, in spite of the truth that Swadeshi had to begin with been used in Maharashtra in 1716 through Goudpad Charya in Nasik amid the Peshwa line, the Swadeshi was utilized in Maharashtra in 1905. Shankar Shashtri Gokhale and Bhau Wadekar, natives of Poona, began the Swadeshi development in Maharashtra in 1846, as per Subodh Patrika. Tilak supported a boycott and was engaged in Maharashtra's Swadeshi movement. Among industrial workers, he raised mindfulness around the Swadeshi Development. In Maharashtra, the slogan of Swaraj, the beliefs of Swadeshi, Boycott, and National Education, and the environment of Swadeshi, which arose amid the anti-partition movement, were widely promoted. Celebration festivities including Ganapati Utsav and Sivaji celebration were significant moments in Maharashtra's freedom battle.
REFERENCES
"History of Swadeshi Movement: Causes & Effects"
"Swadeshi Movement: Timeline and Important facts"
A History of Modern India
Aishwarya Says:
I have always been against Glorifying Over Work and therefore, in the year 2021, I have decided to launch this campaign "Balancing Life"and talk about this wrong practice, that we have been following since last few years. I will be talking to and interviewing around 1 lakh people in the coming 2021 and publish their interview regarding their opinion on glamourising Over Work.
If you are interested in participating in the same, do let me know.
Do follow me on Facebook, Twitter Youtube and Instagram.
The copyright of this Article belongs exclusively to Ms. Aishwarya Sandeep. Reproduction of the same, without permission will amount to Copyright Infringement. Appropriate Legal Action under the Indian Laws will be taken.
If you would also like to contribute to my website, then do share your articles or poems at adv.aishwaryasandeep@gmail.com
We also have a Facebook Group Restarter Moms for Mothers or Women who would like to rejoin their careers post a career break or women who are enterpreneurs.
We are also running a series Inspirational Women from January 2021 to March 31,2021, featuring around 1000 stories about Indian Women, who changed the world. #choosetochallenge